Carpet vs. Hardwood Flooring: Which Is Right for You?
Posted by CARPET PLANET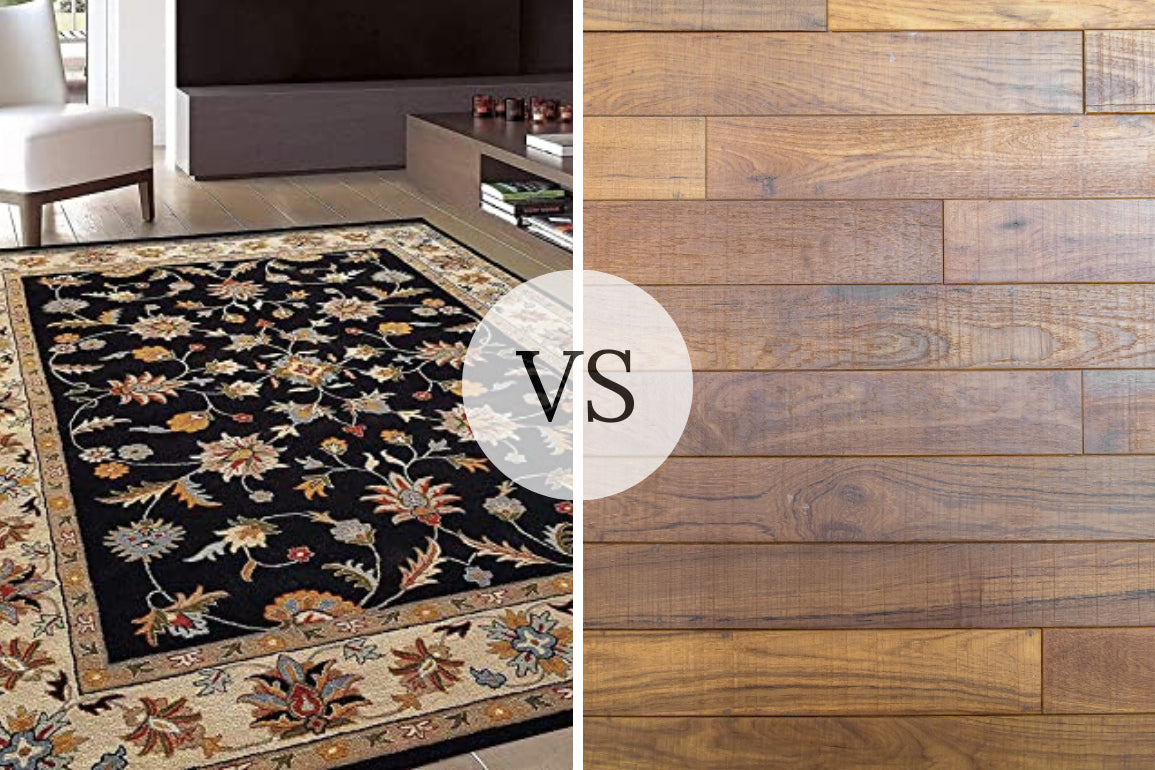 Carpet or Hardwood? Which flooring option is suitable for my house? It is a common question among people looking to revamp their floor decor.
Carpet and hardwood are utterly different and made of entirely different materials. One is a soft embrace, warm and kind, while on the other hand, hardwood flooring is natural and complex and depicts a timeless elegance. 
Each possesses different characteristics relevant to specific environments and design preferences. Hence, whether you're planning to visit the nearest store or buy carpet online, knowing carpet vs. hardwood cost and material compatibility with your home's aesthetics is critical in making an informed decision.
Let's understand these key factors and uncover the right flooring option for your house. 
Understanding Carpet vs Wood Flooring
Handmade carpets are crafted by closely sewing thread loops of natural fibers such as silk, cotton, or wool through the frame on which the rugs are woven. They are always manufactured in huge rolls, and when individuals want to buy carpets online, they can purchase them in the size they need by measuring them in feet. It allows customers to buy the exact carpet size to cover their floors without excess material.
On the other hand, hardwood flooring refers to solid wooden boards milled from lumber acquired from felled tree logs. These wooden boards boast a smooth and tough surface on the floor but are rough on the opposite side. 
Choosing between Carpet or Wood Floor?
Let's cut to the chase and begin the main round: 
Carpet
Appearance:

A handmade carpet blends your space with a unique, artistic, and timeless tapestry, adding warmth to the overall appearance. However, while buying a mat, one should always remember that decor combined with the right rug leaves a gentle and soft impression on the room. 

Water resistance:

Compared to wooden flooring, a carpet offers slightly higher resistance to water. However, it is necessary to dry them once the water has seeped from the front to the bottom. 

Maintenance:

Irrespective of the source, whether you buy a carpet online or from an offline store, They require routine cleaning and vacuuming once a month (varies with your home environment).

 
Wooden Flooring 
Appearance

: We all can recognize a wooden floor, but what catches our attention is its natural shade and the amusing texture of the wooden grain (depending on the wood species). Like a wooden floor carpet, the wooden flooring creates a bold statement from head to toe of an individual. 

Water resistance:

Revamping homes with wooden flooring in areas prone to water or constant moisture is never recommended. However, if you desire wooden flooring, investing in a wooden floor carpet can be a great alternative; it's easy to swipe and stable enough to use in water-prone areas.

 
Maintenance:

Wood flooring requires fewer sweeping efforts. Regular vacuuming will cause dirt and dirt that has swept through the bottom of the floor.
Comparing carpet and wood floors based on the above standards, it is recommended to buy rugs when comfort is the major requirement, and the budget is average. However, hardwood flooring is the way to go if a bold impression fits your space and budget is not a major concern.
Carpet vs Hardwood Cost: Budget-Friendly Appeal
As discussed in the previous section. Buying carpet online is a budget-friendly option, including material and installation costs compared to hardwood flooring. If you're looking for an economical choice that doesn't compromise comfort, carpet is a top contender. However, keep in mind that long-term maintenance and cleaning costs are subjective. 
Revamp your floor decor with Carpet Planet
In the carpet vs. hardwood flooring debate, there's no one-size-fits-all answer. It ultimately comes down to your personal preferences, environment, and the specific needs of each room in your home.
If you're looking for economical flooring options that spruce up your home decor with a serene ambiance and a cozy feel underfoot, then you should consider going with the opportunity to buy carpet online. 
Handmade carpets are perfect for spaces like bedrooms and areas where relaxation is a must. Also, consider shopping for wooden floor carpets to revamp your room with a blend of comfort and timelessness without losing the imprint of wood. 
Opt for hardwood if you prefer timeless elegance, long-term durability, and the potential for a higher resale value. Hardwood flooring adds a touch of luxury to any room and is an excellent choice for high-traffic areas.
Whether you buy carpet online or invest in hardwood flooring, remember that your choice should align with your unique style and lifestyle. Both options offer their own set of advantages, ensuring your home reflects your taste and comfort.
Collection 2019
Sale 70% Off
Title for image