How to Make Your Guests Go Wow this Diwali with a Hand-Knotted Carpet
Posted by CARPET PLANET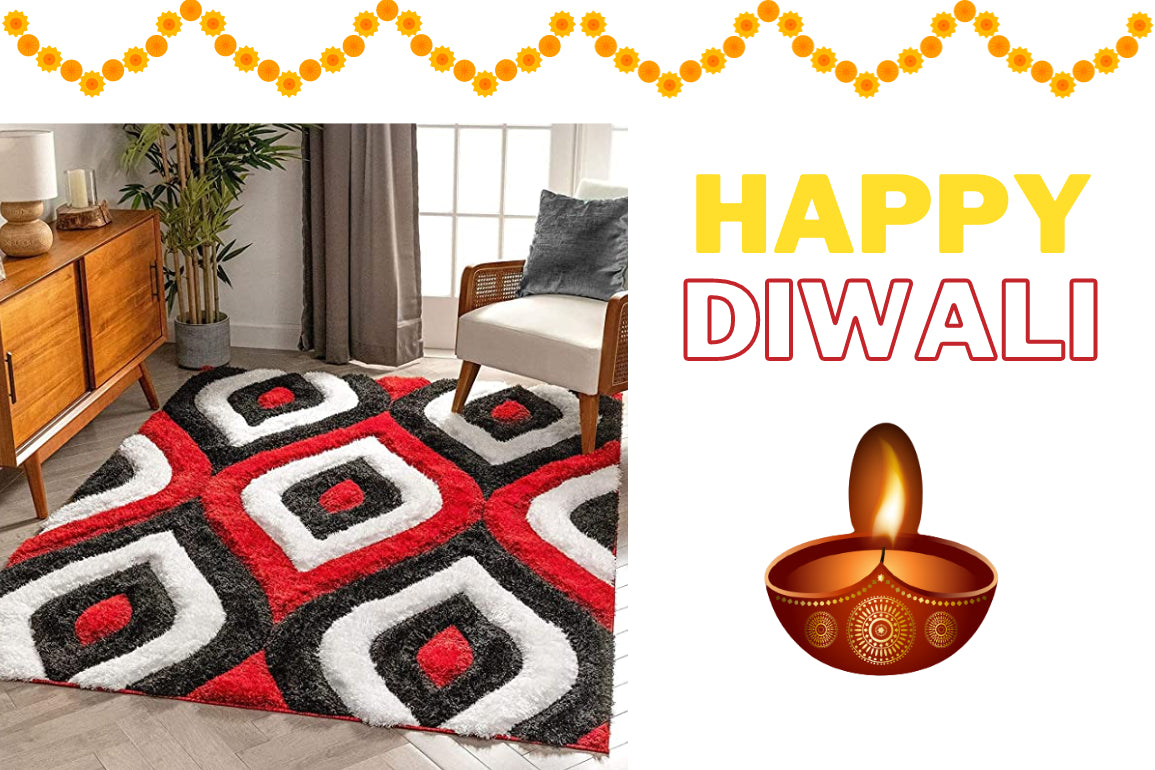 Are you eagerly anticipating this year's Diwali festivities? The festival of lights brings joy and brightness to our lives, uniting us in celebration with food, prayer, and beautiful decorations. In this article, we'll explore some innovative Diwali decoration ideas featuring hand-knotted carpets and where you can conveniently buy carpet online to transform your interior decor.
1. 
Versatile rugs for every space
Rugs are incredibly versatile, and depending on their size, they can be placed in various locations within your home. From bathroom rugs to room rugs, their sizes vary, but they all have the power to elevate your decor.
2. 
Boho chic with mixed fabric rugs
For those aiming to achieve an aesthetic boho decor, consider using mixed fabric or jute rugs to create a more dramatic look.
3. 
Mixing colors and patterns
Interior decorations differ from one home to another, but patterns and shapes are ubiquitous. This Diwali, consider incorporating cotton with wool mix carpets that feature colorful and exclusive patterns, enhancing the overall ambiance. We offer a wide range of cotton and wool mix handmade floor rugs for you to explore and select the perfect one.
4. 
Elevate tradition with wool rugs
To infuse a touch of tradition into your interior, introduce the vibrant colors of wool rugs that can complement your existing decor. Experiment with a vast array of colors—approximately 500+ options—to find a rug that resonates with your personality and complements your home.
Carpet Maintenance Tips for Diwali
Before Diwali, it's essential to keep your carpets clean. You don't always need heavy cleaning equipment for this. Here are some efficient methods to keep your carpet looking clean:
1. 
Removing loose dirt and dust
For low-pile carpets, you can use a stiff-bristled broom and a dustpan to remove loose dirt and dust. For thicker, high-pile carpets, it may require a bit more patience.
2. 
Using snow for cleaning
On a snowy day, you can clean area rugs by rolling them up, taking them outside, and beating the dirt out in the snow. This method is ideal for delicate or easily transportable rugs.
3. 
Disinfecting with vinegar
A mixture of one part white vinegar with three parts water can be used to refresh and disinfect your carpets. Apply the solution with a scrub brush.
4. 
Spot cleaning
Wipe the area with an absorbent cloth to remove recent stains, then rinse and wipe the area with the proper cleaner. To absorb moisture, use baking soda first, then a vinegar-water combination.
5. 
Removing pet fur
Use a lint brush to remove pet fur from your carpets, especially in areas with visible build-up.
How to remove coffee stains from a hand-knotted carpet
Coffee stains on your beautiful hand-knotted carpet can be a real nightmare, but fear not! Using a few readily available, typical household items, you may resolve the issue quickly. Here are the exact steps for removing coffee stains from a hand-knotted carpet.
Step 1: Blot the stain
Don't freak out if you recently spilled coffee on your carpet. The clock is ticking. Blot as much of the liquid as you can using a light-colored cloth, rag, or paper towel. To stop the spill from spreading, start at the edge and move toward the center. Avoid rubbing the carpet; instead, focus on blotting the liquid. Once you've absorbed all you can, pour a small amount of cold water on the stain and blot again to dilute it.
Step 2: Use a cleaning solution
If simply blotting does not remove the stain, it is time to create a cleaning solution. Combine one cup of hydrogen peroxide and one-half teaspoon of dish soap in a small bowl. The cleaning solution should be applied to the coffee stain using a sponge or light-colored towel. Let the solution sit on the stain for 5-10 minutes, allowing it to work its magic. Afterward, use a clean towel or paper towel to absorb both the coffee and cleaning solution. Note that most carpets are solution-dyed and won't discolor with hydrogen peroxide. If you're uncertain, test a small hidden area first before treating the stain.
Step 3: Use a wet vacuum
If the initial treatment with the cleaning solution doesn't completely remove the stain, it's time to step up your game. Pour more of the cleaning solution onto the stain, ensuring that the entire area is saturated. Let it sit for about 10 minutes. Then, utilize the wet setting on your wet/dry vacuum to extract all of the liquid. Repeat this process until the coffee stain is completely gone.
Buying carpets online is a convenient way to find the perfect replacement if the coffee stain becomes too stubborn to remove. However, with these easy cleaning steps, you might just salvage your beloved hand-knotted carpet without having to resort to such measures.
Final words
This Diwali, embrace the latest trends and add some glamour to your decor that's beyond your usual style. Discover the distinctive handmade carpets created by talented artisans in Bhadohi (the carpet capital of India) and offered for sale online by Carpet Planet. Design your own sizes for living room rugs, outdoor rugs, bathroom rugs, and more.
Our wool and cotton hand-crafted rugs include elaborately created patterns of lines, flowers, and more to enhance your living environment. They are constructed of 30% Cotton (Cloth Backing) and 70% Wool.
For those seeking extra excitement this Diwali, consider adding a viscose silk handloom rug to create a luxe carpet feel. With us, you can obtain rugs up to 15 feet in length.
As you celebrate Diwali, may these handmade rugs inspire you to find the perfect match for your taste and decor. Wishing you a joyous and vibrant Diwali from Carpet Planet!
Collection 2019
Sale 70% Off
Title for image