This Diwali, Upgrade Your Home With the Right Carpet
Posted by CARPET PLANET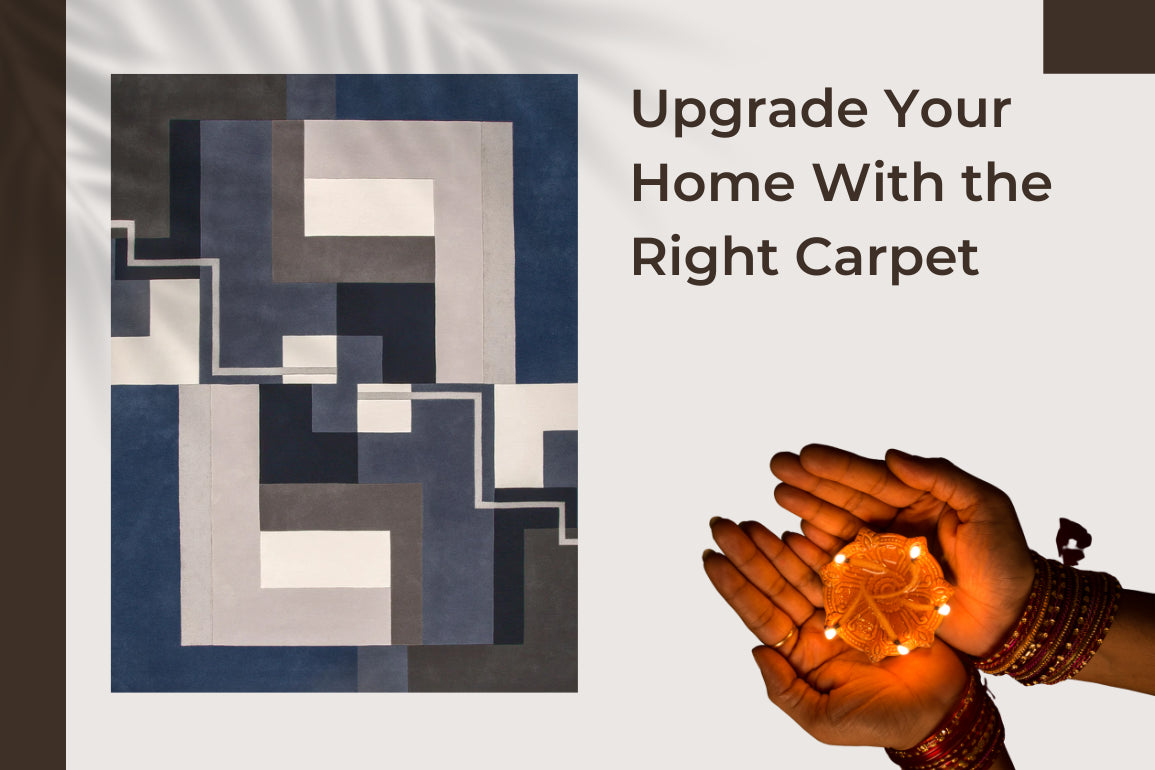 Hand-knotted carpet, the versatile home adornment, possesses the remarkable ability to unify and redefine a living space. Beyond aesthetics, they offer a spectrum of practical advantages, from providing warmth to reducing ambient noise.
When you delve into the industry of floor coverings, nothing surpasses the charm of hand-knotted carpets. These treasures are available for you to buy online at Carpet Planet, offering a rich tapestry of colors, textures, and patterns while delivering unparalleled comfort underfoot.
The cost of acquiring these masterpieces pales in comparison to the cozy ambiance they bestow upon your abode. Your desire for a specific style or design can always be fulfilled when you discover the ideal source.
A trusted source where you can explore a diverse array of carpets, including modern, natural, transitional, and traditional designs, each catering to distinct tastes and needs. If found right, the hand-knotted carpet becomes your steadfast companion, accommodating those who walk, sit, and sometimes recline upon them.
As an industry expert, we have brought you this ultimate guide, composed with our daily experiences and the requirements of our consumers, which enables us to craft and sell the right hand-knotted carpets.
Select the Right Size
Selecting the right carpet size and shape can be an uphill climb. The dimensions and contours you opt for contribute significantly to defining the character of your living space. Choosing the ideal carpet size is pivotal to preventing it from either disappearing within your room or overwhelming it.
During festivals such as Diwali, the carpet you select will define the unique character of your space. Every room necessitates a carpet that aligns harmoniously with its design. The style, pattern, and colors exhibited in the predominant floor covering can serve as a foundation for wall color, furniture selection, and accessorizing.
Finding Specific Carpet for Specific Rooms
When contemplating living room carpet online, consider the specific design elements of the room. Depending on the ambiance you seek, patterns, colors, and weaves can be pivotal. In eclectic or whimsical settings, vibrant and contemporary carpets may take center stage, while traditional decor finds a perfect complement in Oriental or Persian carpets. For a modern aesthetic, geometric patterns and tone-on-tone carpets are fitting choices.
Additionally, the utility of carpets extends to noise mitigation. In areas like living rooms, noise reduction is crucial to establish a comfortable environment. Therefore, when selecting a living room carpet, prioritize sound-resistant qualities.
The quest for the perfect carpet is an art that demands precision. The suitability of a carpet is inherently linked to the room it graces, and a mismatch can irrevocably disrupt the space's aesthetic. Large rooms can accommodate more intricate patterns, whereas smaller spaces may benefit from repeating patterns, which create a visually expanded appearance. Striped carpets, for instance, can enhance the perception of width in smaller rooms, while black and white carpets inject a modern edge into any setting. Fine Persian carpets are more than just floor coverings; they are heirlooms that appreciate value over time.
Maintaining a Hand-Knotted Carpet
To preserve your carpet's longevity, it is essential to periodically rotate it to ensure even wear. Avoid placing heavy furniture or clawed feet on the carpet to prevent permanent dents. Hand-knotted carpets offer an effective way to define separate areas within open-plan living spaces, creating distinct zones for various activities.
The Natural Essence of a Hand-Knotted Carpet
For those with an inclination toward natural aesthetics, hand-knotted carpets present an excellent choice. These carpets are celebrated for their durability and adaptability, harmonizing seamlessly with any furniture style. They also lend themselves well to seasonal or frequent decor changes, providing a canvas for incorporating new pillows, artwork, or layered carpets. Hand-knotted carpets are especially practical for households with pets and children, as their robust construction withstands heavy foot traffic and wear.
This Diwali Revamp Your Space with Carpets from Bhadohi
Carpets transcend mere decor; they function as spatial connectors, orchestrating a seamless transition between rooms. Placing carpet with a consistent style as you traverse from one area to another creates a visual pathway, facilitating a unified flow throughout your living space.
Intriguingly, carpets can serve as decorative art pieces when mounted on walls, bestowing ornamental allure and sophistication. They offer a sophisticated touch to your walls while fostering an atmosphere of contemporary appeal during festivals such as Diwali. 
Bring Home the Magic of Modern cum Hand-Knotted Carpets
Modern carpets, inspired by the juxtaposition of nature and technology, emerge as exquisite, hand-knotted creations crafted by skilled artisans.
Modern carpets come in an array of abstract prints, contemporary Art Decor motifs, stripes, minimalistic accents, and more. The texture of these carpets varies depending on the chosen material, allowing for engaging experimentation when revamping your living space. Customization is a delightful prospect with modern carpets, as you can tailor their size, color, shape, and material to suit your preferences.
Explore our collection of hand-knotted carpets and
buy carpet online
to elevate your living space's style, comfort, and functionality for the auspicious occasion of Diwali.
Collection 2019
Sale 70% Off
Title for image